Rapunzel's Box |
Covid-19 Relief Box
Skills:
Visual Branding, Product Design, Wire Framing, Iterative Prototyping, User Research, Illustration, Figma, Photoshop
The global pandemic COVID-19 has forced families and friends to quarantine at home. With a widespread lack of access to daily necessities, families struggle to find convenient and safe ways to acquire items.

Subscription box services are efficient and convenient product distribution systems that deliver recurring packages to users' homes. Our service gives users an option to send these boxes to their loved ones, along with a customized message, connecting them despite the physical distance.  
Over the summer, I worked with Alison Hu to design a subscription box that delivers essential items to families' doorsteps to eliminate risk of exposure to the virus and to connect loved ones, one box at a time. 

Our problem space focuses on creating a safe and reliable ways to get these equipment to individuals as well as providing them with healthy and enjoyable activities they can participate in during lockdown.  In this project, Alison Hu and I addressed the following questions:
How can we help individuals acquire essential items without putting themselves and their loved ones at risk?
How can we help alleviate the stress that families face when forced into lockdown?
Our proposed solution is to have a

2-in-1 subscription box service

, that delivers

essential items and enjoyable activities

right to the users' doors during lockdown. Filled with bright and playful illustrations, our service strives to bring joy and solve the serious dilemma of putting oneself at risk to acquire essential items . 

Beginning our project, Alison and I laid out the features we wanted to include in our box. We wanted our service to offer more than just personal protective equipment:

we desired to bring a source of comfort and joy through the visual language of our brand.

 
Characterizing our brand with words like 'uplifting,' 'humanist,' and 'comforting,'

Rapunzel's Box provides a different experience for customers than other online essential items stores 

because unlike other online services, Rapunzel's Box is 100% catered to the user creating a more

intimate experience.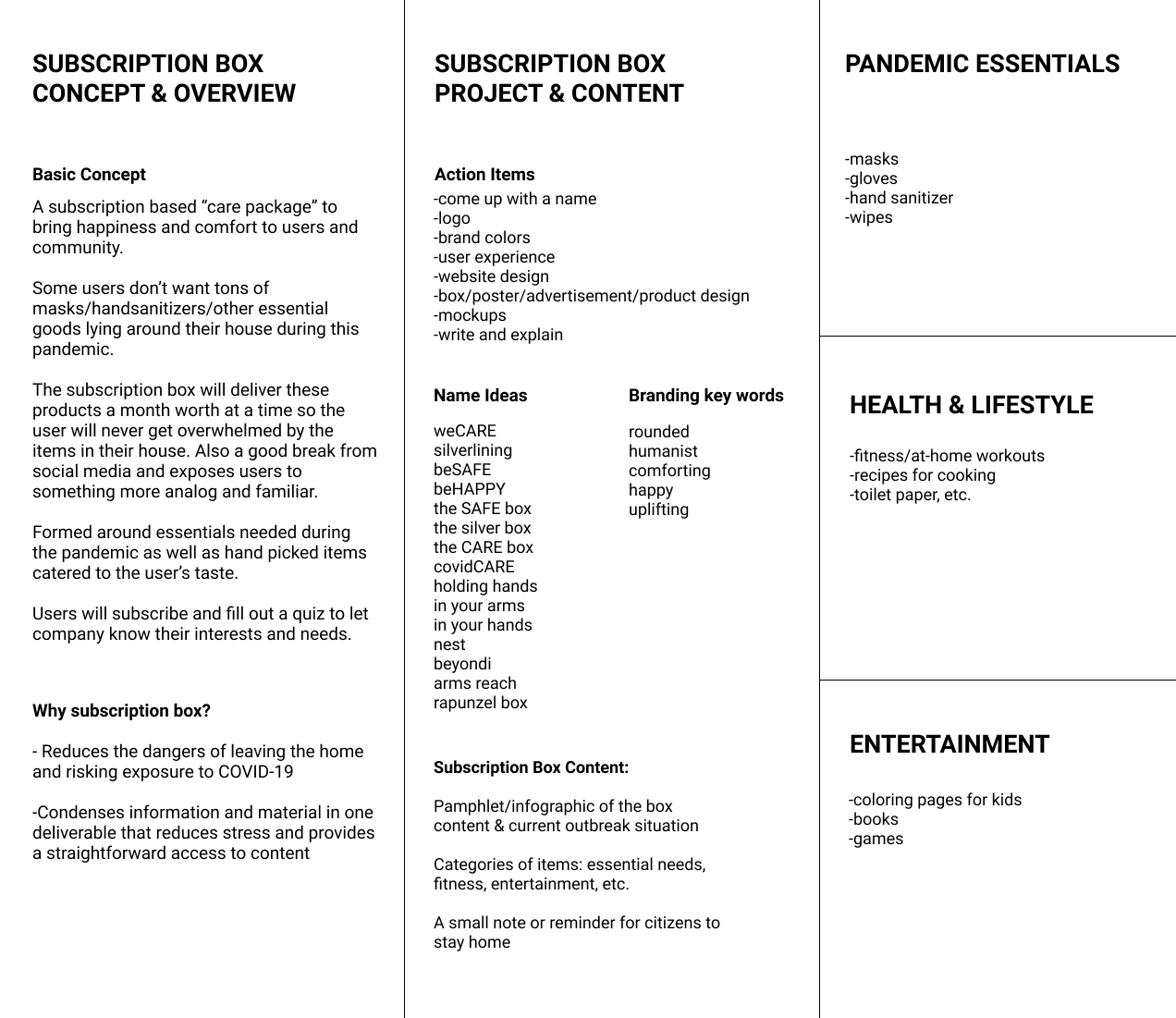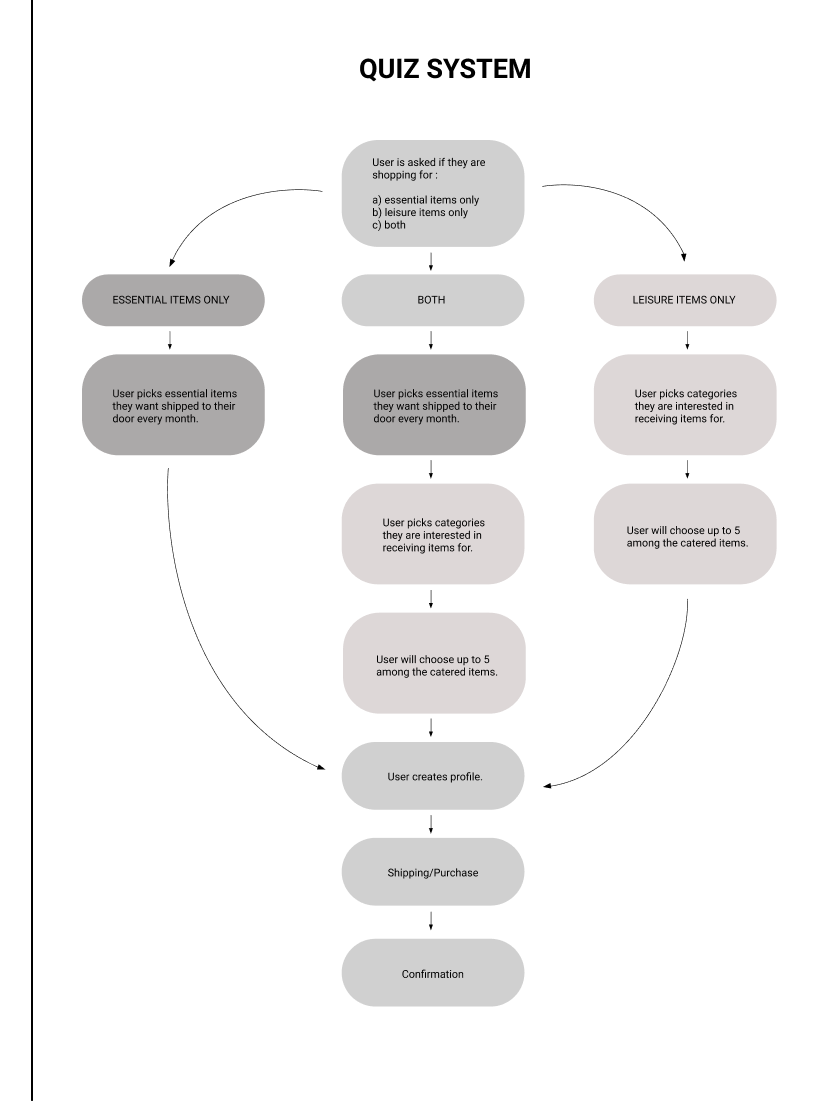 Based off of the quiz system Alison and I worked on, we went on to create in-depth wireframes of what our final website would look like. Because the website is the place where users subscribe and personalize their box, we wanted to create an experience that was

smooth and intuitive. 
We realized that many subscription box services welcome the user to begin the quiz right at the landing page, a gentle nudge to get the user to subscribe as soon as possible. The overall layout of the website was designed to be fun and simple, allowing the user to enjoy the different illustrations and not get overwhelmed during the process.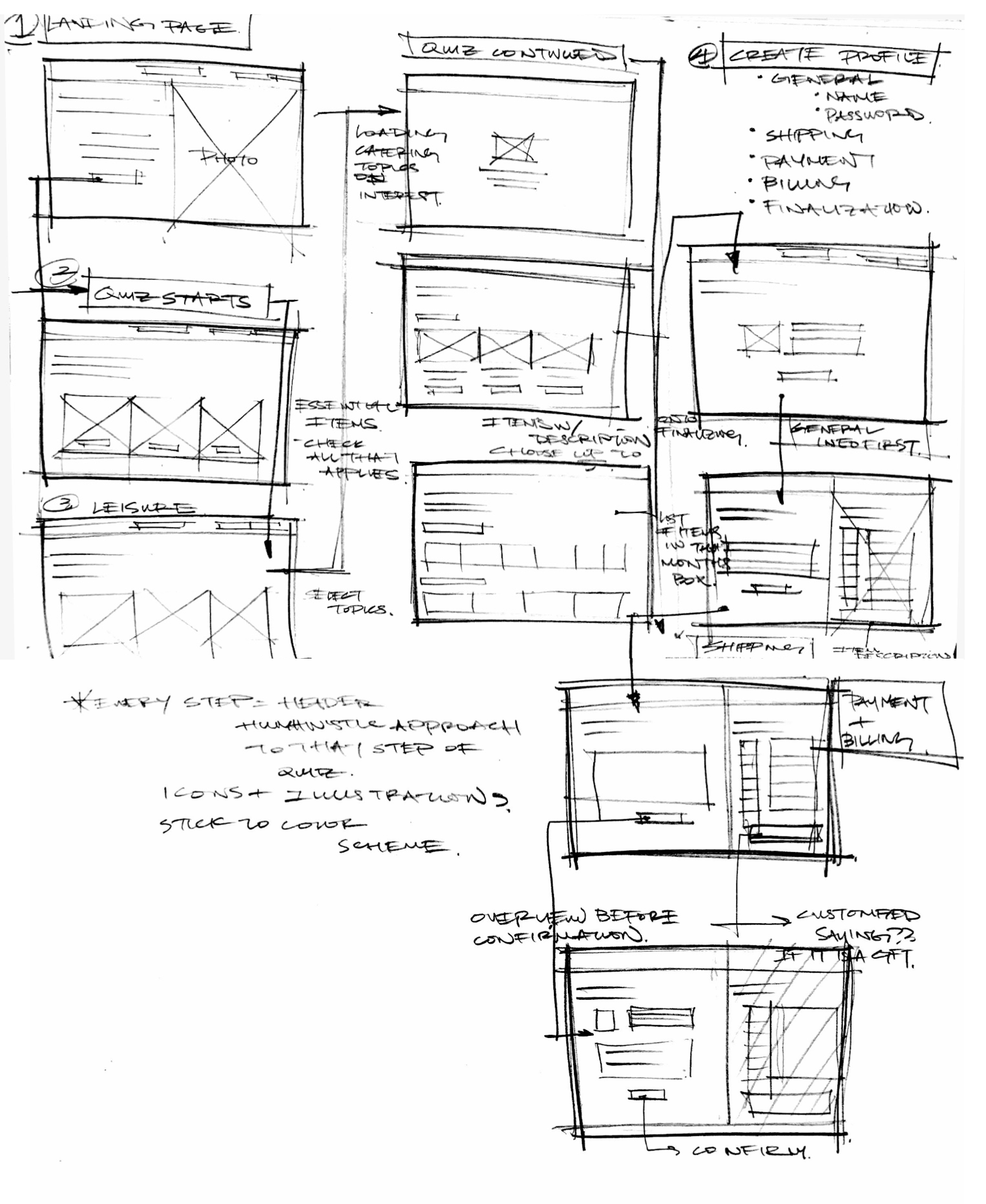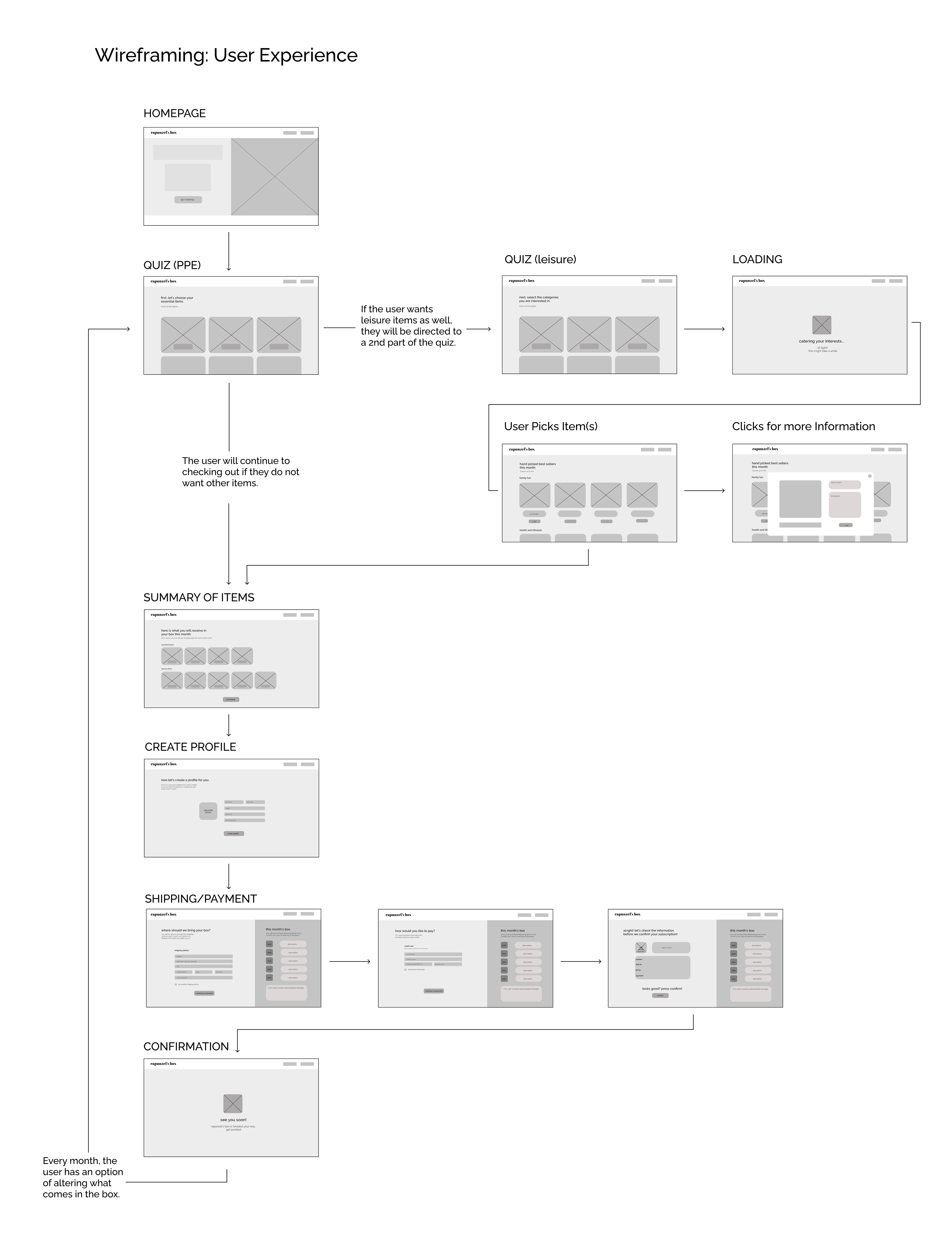 The name, Rapunzel's Box, references the

famous story of Rapunzel who was kept at home in "lockdown,"

much like the state of the world right now. Using this playful approach to build our brand, we wanted to reflect this idea through  the bold and fun colors  we use as well as the illustrations. Keeping our goal of building a brand that was uplifting, humanist, and comforting, we focused mainly on how we can spark joy to our customers upon receiving the box.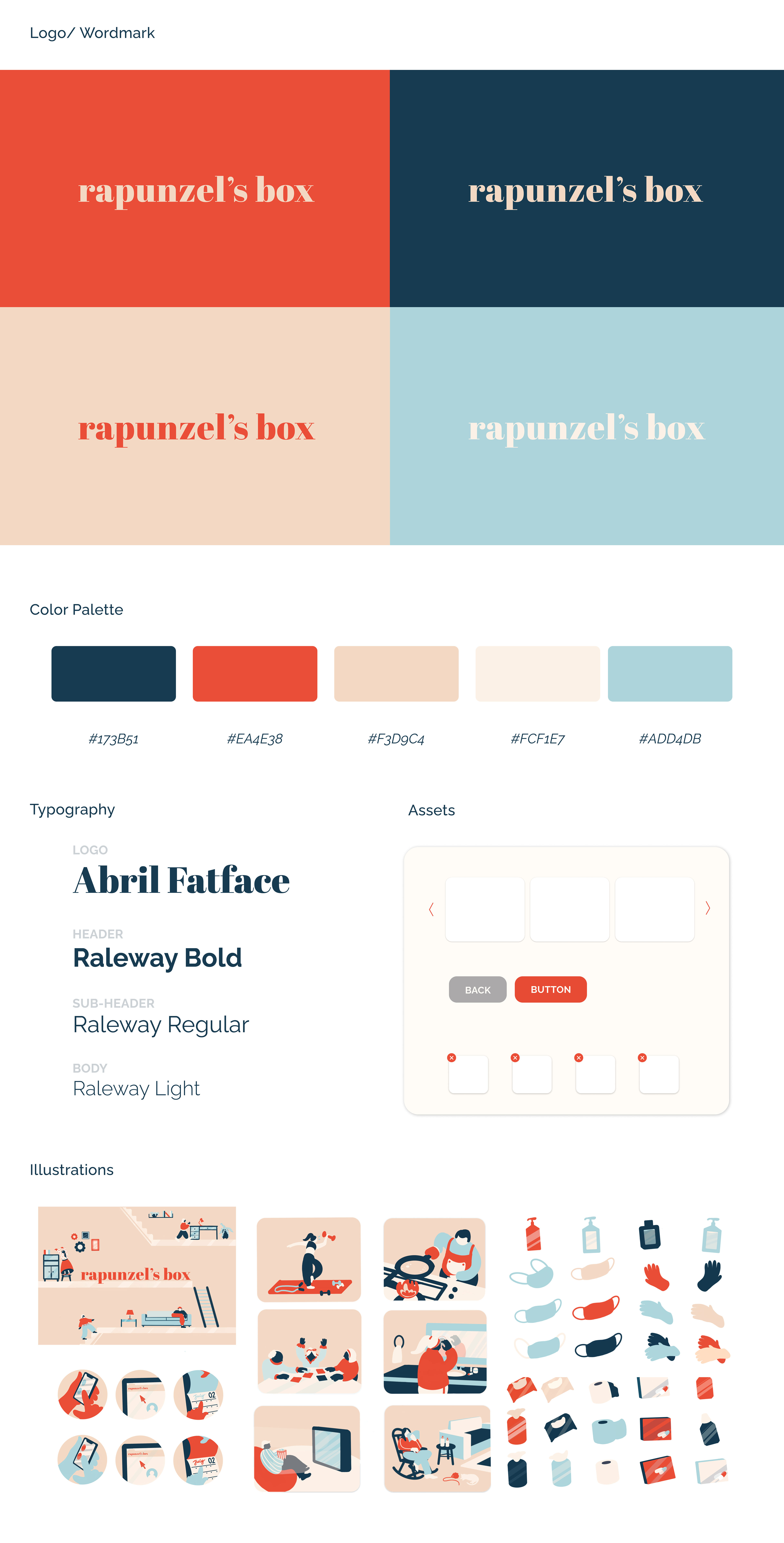 Here is a final look of our wireframes and visual branding combined to create a final mockup of the user's experience, upon entering our site. The user is welcomed with friendly illustrations and then nudged to take the quiz. Towards the end of the quiz, the user will create a profile and subscribe to the service.  


Here is our final box design


This project was done completely remotely, during the summer of 2020. Alison and I used many collaborative software programs such as Figma to develop our idea and illustrate the graphics for this project. Because this project had a physical barrier between Alison and I, we had to learn how to overcome these obstacles by being super transparent with our thoughts and contributions. 
The challenge of this project was distinguishing what made our service different and unique from the other online stores.

We learned that as much as the item itself matter,  the experience of obtaining these items is crucial as well.

Focusing on the playful yet comforting aspect of our brand paired with the intimate quiz experience, Alison and I learned that creating a

humanistic experience

in the midst of a global pandemic was the aspect that set our service apart from others. 
​​​​​​​