The Obesity Epidemic 2020
5 weeks, (through a structured class syllabus)
A poster that visualizes the complex system of obesity in America. 
​​​​​​​
Obesity has engulfed almost
37%
of the American population with systemic issues affecting a myriad of demographics. Layers of systemic and systematic interconnectivity bury complications from the public eye, making large-scale issues like obesity difficult to tackle. 
Our group uncovered this complex system by analyzing the problem with a scalar approach, placing a multitude of stakeholders within the distinct problem spaces throughout a micro-to-macro scope. By pinpointing clusters of defects and flaws, then filtering them through STEEP (Social, Technological, Economic, Ecologic, Political) lenses, we were able to identify harmful feedback loops and formulate targeted interventions to break the cycle. Our gigamap presents a complex system in an accessible format to inform the viewers of this issue and, hopefully, engage them to get to a healthier America.
Skills:

 Research, Systems Thinking, Content Organization, Visualization, Rapid Prototyping, Group collaboration.
Team:
Bhakapol Bhakdibhumi, Francis Park, 
Holly Liu, Jasmin Kim
01. Analyzing the Problem
Obesity is a massive issue that requires an overhaul of our entire society and culture. Due to the interconnectivity and in

terdependency within this issue, obesity is much more complicated than to be fixed with one solution. 
What are these interdependencies and connections that make up this obesity epidemic? 
What are the layers of cause?
Who are the stakeholders?
What is the ideal future? 
How can we craft potential points of interventions?
How does obesity play a role in the social, technological, environmental, economical, and political level? 
Due to the circumstances of remote learning, my teammates and I found a way to organize our resea

rch onto a virtual wallspace. Using the online platform, Miro, my teammates and I created a mess map to st

udy how interconnected and messy the problem of obesity really is. 
Approaching our problem, we created a mess map that was divided using four stakeholders affected by the epidemic:

the individual, the food industry, the government, and the environment

. We then expanded the map even further by researching the micro-relationships within smaller issues. 
To help with craft the possible points of interventions, we mapped out the "ideal future" regarding obesity in America to visualize what would need to occur to help this epidemic. We next came up with possible points of interventions to break the cycle of positive feedback loops found in this specific system. Using the 12 leverage points by Donella Meadows as reference, we identified which category the specific interventions falls into. 
Moving from our mess map to the process of visualizing our information in a clear concise way, we realized that using stakeholders limited our ability to show the interconnections within the problem. Instead we explored the major causes,

big food

,

social, environment, lifestyle and psychology

, and began to incorporate scale. 
Our first iterations included a radial style map and a linear style map. However, the scale of the linear map implied that the wicked problem was sequential, which is incorrect.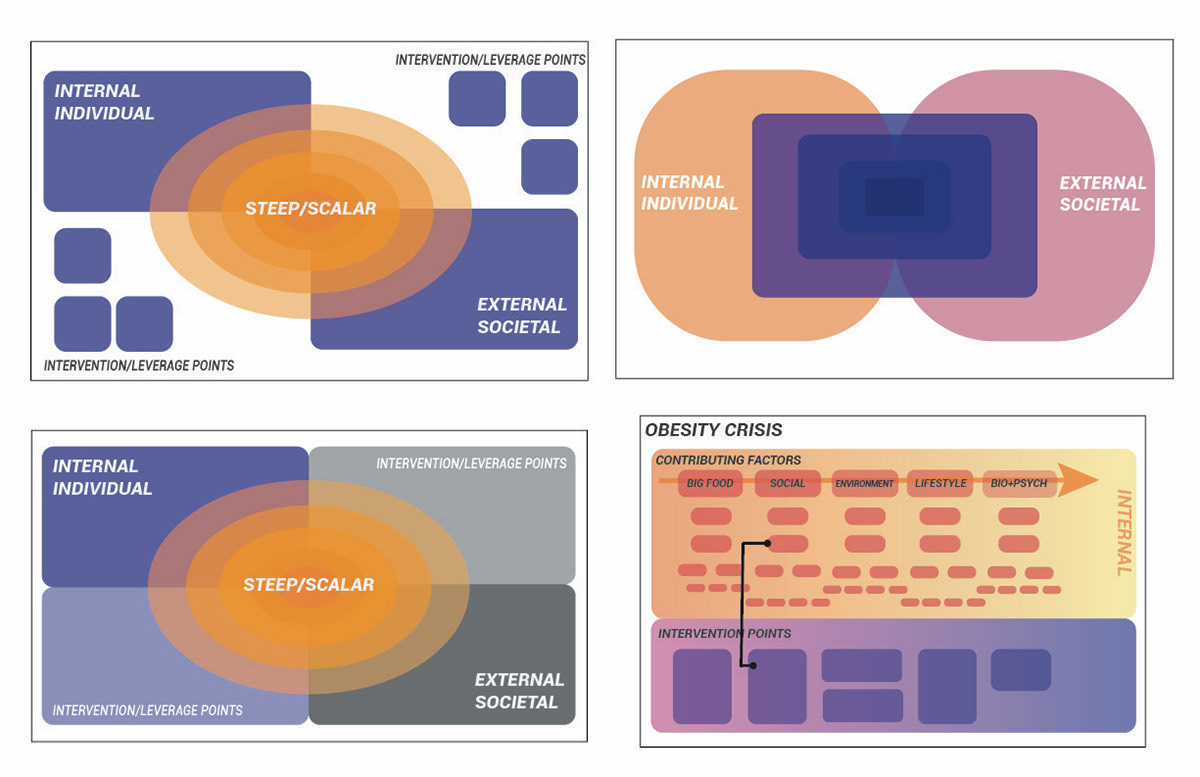 Keeping this in mind, we continued with the radial style map because it allowed for a more accurate scalar representation.We then experimented with scale using two separate methods: (1) internal and external and (2)from the perspective of an individual (as everything seems to 'come back' to the individual).
Our final map identifies five different problem spaces: physical activity, nutrition, healthcare/workplace, and marketing/media. Unlike our initial attempts, we applied scale at three levels that show the impacts of obesity on multiple levels:

individual

,

broader community, and national

. In order to represent the problem's complexity, we used

colored arrows to categorize STEEP

cause and effect interconnections across the scales and problem spaces and 

implemented colored dots

next to texts boxes to denote the STEEP categories. Our team also explained and identified major relationships throughout the map using white dashed lines.